Back in December, one of the nurses I work with asked me if she ran a marathon, if I'd run it with her.  We sipped on some wine (less than a glass was consumed at that point, so it wasn't the alcohol talking), and I love running, so of course I agreed…someone wants to run a marathon?  I'm in.  I know I would have loved support during my races and know that running with someone is so much more fun and easier than running by yourself…so I agreed.
I assembled a list of some May marathons that would be good possibilities for a first marathon, and since she's originally from New Jersey, we went with that one.  Easy to get to from NYC and her parents could join.  So we registered.
The New Jersey Marathon was three weeks after Boston, which is the shortest amount of time I've ever done between the distances.  My legs weren't so happy with me after Boston, but I squeaked in a ten mile run the week before.  It'd be at a slower pace, so no worries.  Based on her half time (2:08), I was figuring around a 4:45-5 hour marathon, but as a first, I was worried about time.  She pulled a muscle in her glute and had to take some time off, so who knew what race day would hold.  The plan wasn't for me to "pace" her so to speak, but just to run with her the entire way and be supportive.
Just so you know, this is about how good I am at comforting someone, compliments of "What Should We Call Nursing":
Moving on.  It's race report time!
pre-race
After debating hotels vs staying with someone vs a train, we decided to take the 5am NJ Transit train that the marathon had rented.  It left from Penn Station, made maybe four stops on the way to the start of the race, and got in a little bit after 6am.  Alyssa and I live in the same neighborhood, so we met at the glorious hour of 4:15am to grab a cab to the train station…people were still out from Saturday night and Penn Station had a mix of marathoners and people looked to get home from their big nights out.  Way to be, NYC.
I grabbed some coffee for the train ride, and we settled in on a train full of runners.  It was looking to be a good day for a run, and Alyssa kept saying how she didn't feel like she was going to run a marathon that day…a feeling I wish I had before my marathons because I always get so nervous!  It was an interesting experience because I don't even remember what my first marathon was like…I remember driving to the Metro and having no idea what really was happening since I hadn't ton a lot of big races before it. 
Anyway!  The train was pretty quick and dropped us off around 6:05 right by the starting area.  We did same day packet pick-up, so we grabbed our bibs and tshirts (which are really nice!) and then headed inside the race track building near the start since it was a little bit chilly out.  We immediately found the bathroom (real, indoor bathrooms!) then pinned our bibs on our shirts.  When registered, I took suggestions for names to put on my bib, and Emily suggested this gem:
Unfortunately, it was written pretty small and therefore hard to see on the run.  Oh well.
They actually messed up Alyssa's bib and put her mom's name (her emergency contact?) on the bib instead of her name…so maybe it was good that you couldn't read it.
We hung out, went to the bathroom again, hung out some more, then headed over to bag check…which was just three moving trucks.  Much different than the gazillion school buses up at Boston!  Also, due to increased security, we could only use the clear plastic bags that the marathon provided for us and couldn't put other bags inside the bags.  I should wrote a post about my thoughts on race security sometime, but that's an opinion for another day.
My high school cross country sweatshirt from 2000!
The weather was a little bit chillier than I expected…Saturday had been quite warm and the forecast was to be the same on Sunday, but the morning was chilly and overcast.  I ran in shorts, tank top, tube sock arm warmers, and kept my throwaway sweatshirt on in the corral.  We lined up in Corral D, just in front of the 4:55 pace group.  Seemed about right.  They played some Bruce Springsteen and Sweet Caroline while we waited, and then a trumpet fanfare at the start of each corral.  I was happy there weren't twenty corrals because that fanfare would have gotten old really quick!
We crossed the line about four minutes after the first people, and we were off!
race time
While we didn't really have a plan, I figured we'd probably run 10:30-11:30-ish miles.  I ran with my Garmin just for an idea and because I'm neurotic under any circumstance.  I wasn't totally sure what the experience would be like running toward the back of the pack and at a pace much slower than what I'm used to.  Basically, I just stuck next to Alyssa.  The first nine-ish miles are through neighborhoods that didn't have a lot of people out, but some did come out to cheer.  It was still a little chilly and I wondered if I should have worn a long sleeve shirt instead.
We ran along…Alyssa listened to music and I just made random comments every now and then.  We had plenty of people around us, some with shirts on that said it was their first marathon, otherwise with #run4boston somewhere on their body.  The miles seemed to click off and every once in awhile I checked in with Alyssa to see how she was feeling.  I pumped my arms at every mile marker, and at mile 2, Alyssa told me she hated me.  We had wondered how long it would take for her to tell me that, haha.  And I sometimes took pictures…
Marathon!!
Also, I learned that the key to good race photos is to run much slower than your race pace…you will look much more like you're having fun and less like you want to fall over.  Evidence:
Thumbs up!
Best race photo??
RUNNING IS FUN!
So, now you know.  I ran with my phone…for no real good reason other than maybe I could snap some pictures, and to text Jocelyn and Meggie who came to cheer…they were at mile 9, so I texted them when we got to mile 8  I spotted Meggie's Oiselle scarf and started waving…and they started screaming.  "First marathon!  You look great!" then ran along side us for a short period before cutting off to head back to the city.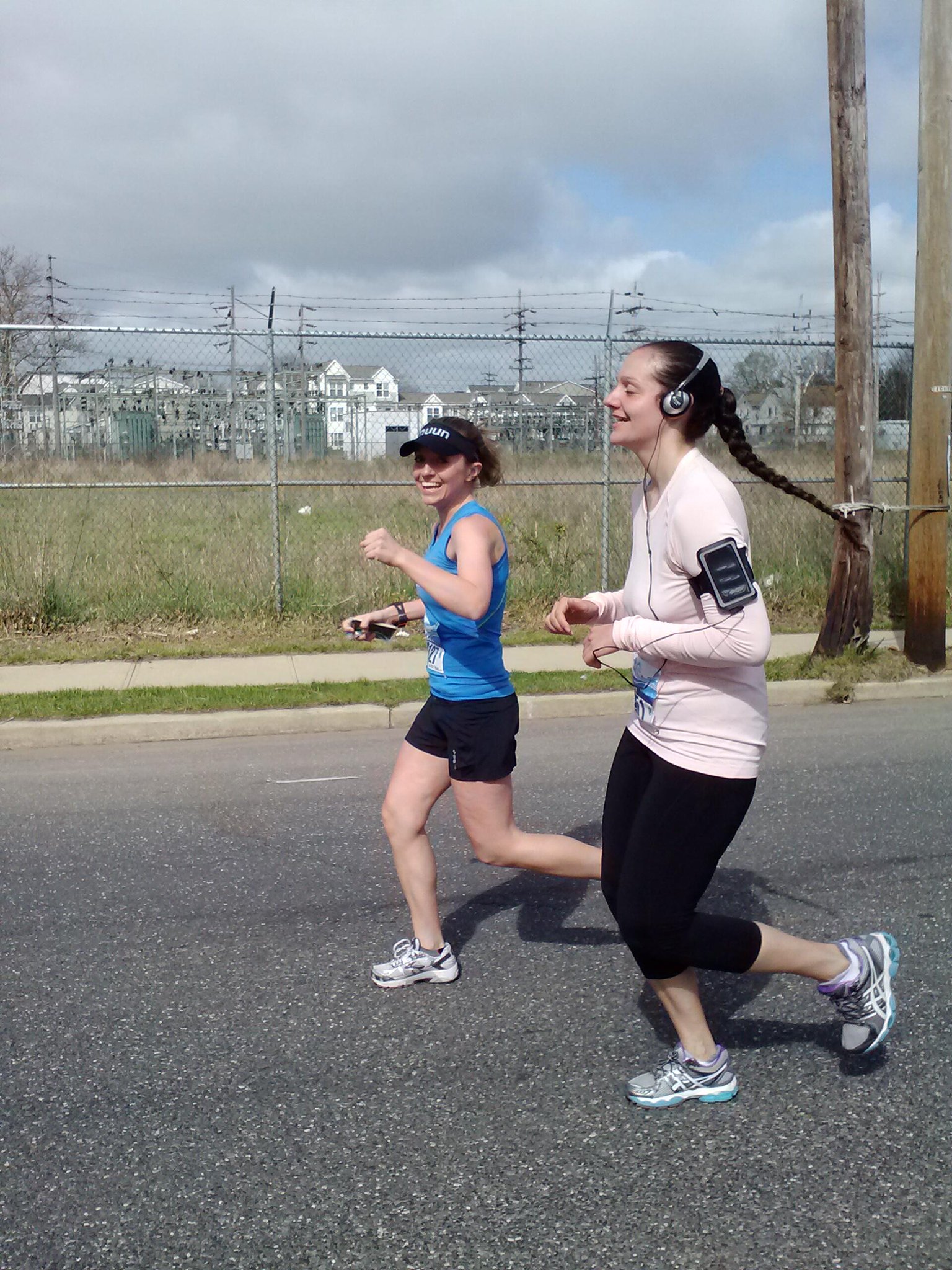 Picture compliments of Meggie!
As they left, Alyssa commented, "Your friends are really peppy…"  haha, that they are.  Jocelyn certainly has an appropriate blog name.
We continued on and started getting to a part of the course where it was a little more crowded…near where the half finish was.  Alyssa's parents came to watch, and we first saw them around mile 10…waving our arms and yelling.  We made a quick stop to say hello…I shook her dad's hand, which I don't think I've ever done during a race before, haha.  We made it through town and then started on the giant out and back that is the last 14-ish miles of the course.
Much of the course was just on a large street, not necessarily close to the beach.  The water stops were every two-ish miles, so sometimes we stopped to grab a drink (note:  it's easier to drink when you stop to drink instead of trying to drink at 7:30 pace, just saying).  After the halfway mark, we made a bathroom stop at a very scenic port-o-potty (ocean views from waiting outside!) and then moved along.  We spotted her parents a few more times…they were great spectators and made it to multiple spots!  We were always surprised when we spotted her mom's green sweatshirt in the distance.
It was around mile 12 that Alyssa mentioned that her butt was really starting to hurt, but that she felt like she could keep going.  We took some short walk breaks and stretched a little bit, but we always got going again.  I started to get nervous around mile 15-ish because she kept saying that it hurt and that it hurt a lot, but it didn't hurt any more to run than to walk, so we kept moving along.  I cheered a little extra at mile 16 (ten to go!), and then at mile 17 (single digits!).
We could see the marathoners coming back from the out-and-back, so I kept my eyes peeled for Robin…who I never saw because she was so speedy!  I did see Ashley at a water stop and almost yelled, "Running Bun!" instead of Ashley…oops.
The back part of the race got a bit windy (both in the "wind" sense and in the "curvy" sense)…I don't know if they had to change the course a bit because, had it been crowded, some of the spots would have been really annoying to run on.  Small pedestrian sidewalk?  Not so sure about that one.  We got excited at mile 18 because that was the furthest Alyssa had run in training, and I was still a little nervous about her butt.  Some short stops to be followed by running again…we'd made it, I hoped!
At mile 20, I got a little excited, and at mile 21 I knew we would get to the finish one way or another.  I told Alyssa, "You can run five miles any day…we got this!"  (See above, I'm not a good cheerleader…)  At mile 22, Alyssa said, "I'm glad you're here…I'd be crying on the side of the road without you."  I figured it'd be at mile 22 that she would hate me instead of mile 2, but I'll take it!  That being said, I sometimes wish I had someone with me in the late miles when I'm mentally down to keep pushing me…so I totally get that.
The miles continued to click off…23…24…I kept saying how close we were, and once we got to 24, I thought about it in terms of that extra 0.2 as well.  Two miles to go…1.5 miles…we're going to do it!!  Alyssa asked if we could stop to walk near the end and I told her it was 0.75 miles to go…so we took a quick break and then picked it up to the end.  This part was all along the beach until we got into town, then it went back onto the beach.
Almost there!
We ran through the little town area, which included a woman who had her kids running with her for the last bit.  We made a turn to get onto the boardwalk and Alyssa asked, "Where's the finish?  I can't see it!"  It looked like flags and a cover was up ahead, so I pointed that out and we kept running.  I was SO excited and smiling at this point, saying random things like, "You're going to do it!  We're right there!!"  I think I was more excited for that than I have been about any of my recent marathons…
HOORAY!
Her parents were on the side at the finished and cheered…and took one of the best running pictures!
Marathon finish, flag, ocean…win!
We crossed the line and hugged…she did it!!  So exciting!  5:20:23 was the official time, hooray!  We walked along and got our medals…this is a fantastic shot:
MARATHONER!
Burn nurses on the run!
post-race
The only person who noticed the "Call Me Maybe" on my bib was the guy who was handing out the food bag…he asked in a quizzical voice, "…call me maybe?"  I don't even remember what I said in reply, but something along the lines of, "Sure, it's fun!" and he said, "Susan, right."  Then we walked along, grabbed soft pretzels that we never ate, and found her parents.  We grabbed our bag check stuff, snapped a few pictures, and walked over to the car where Alyssa assumed the fetal position in the car, haha.  She had the sore leg waddle that I"m all too familiar with, but I think I was saved from thanks to the slower pace.
We ended up going to a diner for some post-marathon food with her parents (omelet…yum), and they dropped us off at a train station to get back into the city.  Sorry to the random guy who we sat next to, we may have been a little smelly…oh well.  Once we got home, we showered then headed out to Cilantro (Mexican restaurants with delicious margaritas) for some post-marathon Cinco de Mayo celebrating!  Post-marathon margaritas are even sweeter on Cinco de Mayo…
splits/etc
26.2 miles in 5:20:23, avg pace of 12:14
Splits looked a little like this:
Not too shabby…we do think she could have gone a little faster toward the end if her butt hadn't hurt her.  Alyssa was doing fine running-wise and the motivation was there, but I know how hard it is to run in pain.  After the marathon, she did mention her "next" marathon…so there might be more to come!  However…it was her first marathon and that in itself is a great accomplishment, especially after injury!  I'm so proud.
thoughts and such
To all those people who say I can't run slow…LOOK AT ME NOW.  Now if only I could implement that on my recovery days, ha.  My knees did feel a little sore at some points, probably because my stride was a little different.  Also, I am SO sunburned.  I knew I would need sunscreen, but I didn't pack it and forgot to put it on before I left.  (Burn nurse fail…)
In regards to the marathon, it was really fun to experience someone's first marathon with them.  I ran my first in 2006…and I only knew one person who had run one before, so I went into it very blind.  I hardly remember what it felt like, minus the fact that I vomited everything after the race.  (oops?)  Otherwise, the routine of the marathon is very familiar to me.  I get really nervous racing them, and I think this showed me that maybe I'd be better off if I didn't worry so much.  Obviously this was a bit different than me pushing myself, but I can clearly cover the distance, I just need to learn how to do it in a smart manner.  Plus, often the distance is an accomplishment in itself, which I should remind myself of sometimes.  It really is a far distance to run, no matter how many times you do it.
I definitely think it would be fun to pace a group…while I would love to pace a BQ group, I need a little more confidence in my running at that speed (8:12-ish) since I barely did that myself at my last marathon.  But it was really fun to celebrate someone else's hard work and to push them without thinking about my own goals.  As I said above, it might have been more exciting than any of my recent races.
And finally…Congrats, Alyssa!  You're a marathoner!!