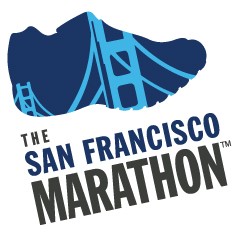 I hope you enjoyed the most exciting post I've had in the past four months!  I know I said that I was going to be smart and not try to run anything on Sunday, but I caved after spending a fair amout of time on Friday and most of Saturday at the expo for the San Francisco Marathon.
To be honest, before I got to San Francisco, I didn't even want to come.  I remember how hard it was initially thinking about going to Boston when I knew I couldn't run, but I was looking forward to seeing friends in Boston so I sucked it up.  Everything was much better when I knew how hot it was going to be in Boston, so I didn't cry when I went to pick up my bib.  For SF, I had signed up for the half thinking that my back would get its act together by the time I got here.  I'd at least be able to stumble through a half marathon.
Not true.  The back pain continued, and I didn't even know if I could run at all.  I figured I'd be smart and not run at all.  But being around all the running hype and listening to people talk…it got to me.  I had trouble sleeping Friday night.  I ran in the park on Saturday morning…four pain free miles.  Then I spent all day at the expo.  I nearly had a breakdown on Saturday night thinking about what I was going to do.  I wanted to run.  I knew I shouldn't.  But I had to try.  (Don't listen to me ever, okay?  Thanks.)
So I prepped my stuff the night before, pinning on my bib number, laying out my shoes, thinking about what to take with me to the start.  Set my alarm for 4:15am and went to bed.  The alarm went off, I quickly got ready, then headed outside to meet Courtney and be picked up by Monika on the way to the start.
A perk of being an Ambassador meant that we had VIP access to Perry's, which was a restaurant right by the start filled with coffee, bagels, and warm place to stay pre-race.  I would imagine this would have been a great place to stay if the race wasn't at 5:30!  We met with other Ambassadors at 5:15 for a quick picture of all of us who ran in a tutu before heading over to baggage drop and then the start line.
Good morning, Bay Bridge!
Wait…what's that, you say?  A tutu?  Well, that's right…I ran the SF half marathon in a tutu.  There was talk between the Ambassadors about wearing tutus made by Monika (proceeds to benefit San Diego Girls on the Run), and the week before the race, I took the bait and ordered one…it would at least be fun to cheer in if I couldn't run!  Monika made awesome tutus in SF Marathon colors, and I proudly wore one on race day.
Back to the race.  Sometime in the midst of taking an Ambassador picture, dropping our baggage off, and heading to the start, Alisyn, Eric, Wes, and I decided that we'd be running together.  We all just started in a group together and decided that we were sticking together.  No one had plans to race, and I had barely met them, but the glory of running is that it brings people together, so away we went.
Blurry 5:30am start line…
I think we missed the start of our wave, so we basically just walked across the line without waiting for anything.  Took off at an easy pace, chatting about who knows what and enjoying running along the street next to the Embarcadero.  (Which I pronounced wrong until this visit…silly tourists, ha.)  It was a cool, dark morning in San Francisco, but the tank top + shorts + tutu combo worked out perfectly…I had a long sleeve shirt tied around my waist, but that was mainly in case I had to stop and walk for miles.  Luckily I didn't have to use it. 
While I don't think we ever made an official race plan, our tutu troop's plan was to take it easy, walk up the hills, and generally just have fun and not worry about the race.  My only worry was how long I would make it before back pain, but I tried not to think about it.  After about two miles into the race, we made a quick bathroom stop, and I took the time to snap a picture of Ghirardelli Square.
Good morning, San Francisco!!
I believe we had our first climb of the day shortly after this bathroom stop, and we took it easy and walked up it.  Since I certainly wasn't trained to run a half marathon, I definitely wasn't trained to run up hills, so this was a welcome walk for me.  As we ran along, we go tons of cheers for the tutus, as Alisyn and Wes were also wearing them…and Eric served as our body guard.  Definitely a fun time.  At some point, I was chatting with Alisyn and she said to me, "You usually race these, don't you?  This must be strange for you."  Yep, definitely not my normal "race" to be wearing a tutu and not caring about pace, but this was perfect for me at the moment.
With Alisyn…tutus on the run!
The miles were flying by and my back was in check.  Eric played tour guide, explaining different parts of San Francisco to us as we ran along.  The crowds were fairly minimal, as it was still quite early.  Definitely not a race for spectator support if that's something that you need.  I remember running through the Marina and joking that anyone who was out was only out because they were coming home from being out the night before, ha.  We walked through water stops and eventually got to the climb that takes you up to the Golden Gate Bridge.
That is one big climb, and I'm so glad to have walked up it…the energy required to run up it definitely wouldn't have been worth it!  I ran up it with Alyssa last year and remember it being tough.  Once the big climb ended, we got moving again as we approached the bridge.  Anyone who knows the SF half marathons knows that the second half is the easier half…fewer hills, that's for sure.  But if you're going to fly all the way across the country to run a half marathon, you might as well run across the Golden Gate Bridge.
With a view like that, who wouldn't want to run across the bridge??  Okay, so it was (what I think is…) a typical San Francisco day and you could barely see the bridge or anything off of it.  That didn't make it any less exciting!  It was especially fun because this part is basically an out and back, so we kept our eyes peeled for runners on the return side.  I saw a runner from New York (Adam, if you ever read this, sorry for creepily saying hi after the race…), Charlie, Nancy, and Alyssa.  The bridge hardly seemed like an incline…not sure if the bridge only has a small grade or I was just having too much fun to notice.  The only trouble on the bridge was that it was wet and the slippery parts made me nervous.  But I was still having a fabulous time.
Miles 6-9-ish are on the bridge, and I was really, really concerned about when back pain was going to hit.  The most I've run since February is eight miles, and I knew that I was testing myself here.  I kept thinking to myself, "Well, if I have to walk now, it would only be six (five…four…etc) miles to the finish."  I thought that maybe I should just take my winnings and walk to the finish anyway.  I knew that trying to run was a probably a terrible idea and wondered what kind of damage I was doing to myself.  But I do think that pain is a sign that something is wrong, and there was no pain…so I kept going.
Mile 7.5, across the bridge.
We made it together as a group across the bridge and started to head back.  As we were running, a man pulled up beside me and asked what we were running for since we all had the same shirts (and tutus!) on.  I told him about being an Ambassador…which meant that we're basically running for the marathon.  He asked if we were all from SF, and telling him I'm from NYC cleared that one up quick!  His accent gave him way, as he ended up being from the UK…since I'm such a conversationalist, I said that he must be used to the this weather, which he confirmed by saying it was a perfect London summer, ha.  I love that you can chat up someone while running…it's probably the only time I fully feel comfortable with small talk. 
We made it back across the bridge, and as we came off Kimra yelled my name…so fun meeting you at the expo!  Our group of four was still together at this point, but shortly thereafter Alisyn and Wes held back a little.  Eric and I soldiered on…I was worried that if I stopped, my back would want to stop and I wouldn't make it to the finish, so our group of four became two groups of two.  We walked up the last (big) hill of the day on the way to the Presidio (thanks for the tour, Eric) and quickly made it to mile 10.
MILE TEN.  DOUBLE DIGITS.  I will admit that here I felt a slight twinge in my back and thought I'd be walking three miles to the finish, which I was ready to do.  Luckily, it went away as quickly as it came, and with a few careful steps I was back in business.  The Presidio is home to a nice downhill, and we certainly took advantage of it as we opened up a bit and headed down the hill.
That's my finger, not an alien invasion…in case you were worried.
At this point, the goal was just to get to the finish.  Eric has some knee problems and we all know my back problems, so our little injured crew was holding up well.  Throughout the race, we all kept checking in on each other…pace check, injury check…all systems go. Insert more cheering for wearing tutus.  After we cruised down the hills in the Presidio, we hit some final hills in miles 11-12…I'm not sure if we actually picked up the pace, but we did pass the 3:50 group on an uphill, so that was pretty awesome.  My legs were definitely feeling a bit fatigued starting around mile 11.5…not shocking since I haven't run that far in almost six months.  My breathing was definitely more labored, but we trucked on.
Trucking along with fellow Ambassador Eric.
Somewhere in mile 12, spectators yelled, "last hill!!"  Liars.  Well, not total liars, but we hit the park and a slight incline…which, when you're not used to hills, feels a bit more rough than the native San Franciscoans probably think.  But oh my goodness, ALMOST THERE.  Eric suggested picking it up…pretty sure that didn't happen.  We ran past the 13th mile marker and spotted the finish line.  They announced our names as we crossed the finish line, and we were done!
Running buddy for 13.1
I can't believe how quickly the race seemed to go by…the miles just clicked along, we ran, took it easy, chatted…and crossed the finish line a couple hours later.  This certainly wasn't how I pictured this race going.  I figured I'd make it anywhere from five-eight miles then walk the rest of the way in.  Worst case scenario, I had cab money in my pocket.  Someone would tell me how dumb I had been.  (You can still tell me that, I knew this wasn't smart at all.)
But honestly?  I haven't been this happy in months.  Anyone who has battled injury would know how ridiculously awesome this was.  If you've been around for any of my marathons, you would know that I'm not a run-in-a-tutu-walk-through-water-stations-not-care-about-my-pace kind of runner.  I like to race races.  See how fast I can run.  But Sunday was all about the fact that I could run.  To have something that you love so much be taken away from you with no guaranteed return in sight, this was more than I ever could have asked for.
That's the best smile I've had in months.
This race reminded why I love running so much.  For those 13.1 miles, I forgot about everything else and all the troubles that this back pain had brought me.  Although I was worried about when the pain would hit, I loved every single pain-free step that didn't make me pull up on the side of the street and try not to move.  I ran a race with people who were (real life) strangers only a few days before, and we chatted it up and ran together the entire time.  I felt strong for most of the race, but if it wasn't for Alisyn, Eric, and Wes being by my side, I know I would have faced much more doubt throughout the race.  Instead, I was able to focus on having fun and just running.  Running (and blogging) has helped me meet so many people in all parts of the country, and this race definitely brought that to life.
This certainly wasn't my fastest race ever, but I feel like it's a huge stepping stone in my recovery.  While not the smartest thing I've ever done, this was definitely the mental push that I desperately needed.  Multiple people have said they probably wouldn't make it if they had been out of running for so long…while only a small blip in the grand scheme of things (I could have it so much worse), it is so reassuring to me that I could get out there and run.  It is truly what I love to do, and I can't wait until the day when I can fly again.  (Fingers crossed…)
Oh yeah, and if you really care…
Sunday, July 29
13.1 miles in 2:01:29, avg pace of 9:17
Splits:  9:07, 8:56, 12:26 (bathroom!), 8:46, 8:55, 19:03 (9:32 avg), 18:34 (9:17 avg), 10:02, 7:56, 8:33, 7:39 (short?), 1:28 (7:16 pace)
It feels SO good to write that again.