It's Tuesday!!  I am mainly excited because this week, Tuesday means that I am off from work, and you can't really beat that.  My legs have a tendency to take a beating from walking around for 12+ hours per day, and I often wear my full length compression hose to help promote circulation and make my legs feel a little bit better at the end of the day.  They will also help prevent very attractive varicose veins when I'm older.  Win-win situation.  (They also keep me warm during chilly nights on the unit!)
Moving on.  As a nurse, I know and understand the benefits of compression for myself and my patients…they decrease edema, promote circulation.  My medical grade socks/stockings are super tight and I sometimes have to wear special gloves to put them on because they help give a better grip.
Needless to say, I was really excited when Zensah contacted me to review one of their products.  If you've been around the running world for long enough, been to any expo, or just been running around your local community, you've probably either seen Zensah on display or on a runner.  I am mostly familiar with their compression socks and sleeves, but I've hard that they have other products as well.
Zensah sent me a sample of one of their ankle support sleeves, shown below on a model instead of me because there's a reason why I'm a nurse and not an ankle model: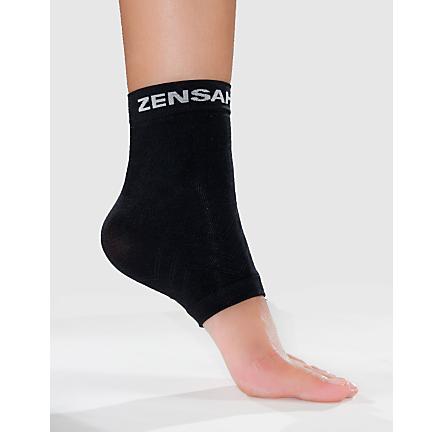 It comes in three colors (black, white, and pink), and I went for the black because let's face…I'm not that exciting of a person, ha.  I received it a little over a week ago and have been trying it out ever since…my thoughts?  Let's go.
at work
I decided to give the ankle support sleeve a try at work, as I am generally on my feet all day.  I will state that I've never had ankle problems in my life (unlike my not-so-beloved back problems), so it is a little difficult to review.  The first thing I noticed about the sleeve was that it didn't really fit in my nursing shoes (under a sock), which is a Dansko clog and therefore cannot be adjusted…but I gave it a shot anyway.
By the end of the day, I didn't notice much of a difference in how my supported ankle felt versus my unsupported ankle…but then again, I am used to full lower body support and not so specific support.
on the run
As stated above, I've never had ankle problems while on the run, nor have I ever worn compression gear while on the run…just afterward for recovery purposes.  The ankle sleeve fit nicely under my sock and into my running shoe (shoelaces are a beautiful thing).  I could notice that I was wearing it, but not in a bad way…just in that it was an addition to my running routine that I wasn't used to.  The sleeve provides a little bit of compression around the ankle without being too tight.  My distances are fairly short these days, so I didn't take the sleeve out for a long run…just a few shorter runs (five miles-ish at the most).  My legs don't take too much of a beating from this distance, so I didn't notice much of a difference.
overall thoughts
Well…it's hard to review a product that is supposed to help problems that you don't really have!  At work, I'm used to tighter compression, and on the run I don't really have ankle problems, nor am I running long enough to really need much help from compression.  That being said, many people who have used an ankle support sleeve for long hours on the job or for help with problems such as plantar fasciitis (I'm looking at you, Sara).  It's a thin sleeve that provides more support than a sock (obviously…), but less support than something like wrapping with ACE bandage or a tape job.  (Although in my opinion, if you really need an ACE wrap or a tape job, you probably shouldn't be running on your injury…) 
So basically, if you have ankle/foot problems and are looking for some support, I would definitely recommend trying the ankle support sleeve…just a little extra support if you need pinpoint compression in the ankle area.  It's thin enough to fit under your sock and gives a good amount of compression without feeling too tight.  As for my nurses…I'd say stick with those crazy full length hose!
From the peanut gallery…I know some of you are Zensah fans.  What are your favorite products?  Has anyone tried the ankle support?  I'd love to hear your thoughts!
************************************************************************************
Disclaimer:  Zensah sent me the ankle support sleeve in return for my review.  Hope you enjoyed it!