I always like to have something to look forward to, and this week I've been lucky enough to have a lot to look forward to!  The glory of working Monday-Wednesday is that you have lots of free time at the end of the week and therefore get to plan all the fun without thinking about work.  (One of the best feelings in the world is the "I don't have to go to work tomorrow!" feeling.  Three shifts in a row can be really hard, but definitely worth it in the end!)
So anyway.
First thing I had to look forward to this week was the New York Rogue Runners Jumping Jack Off Contest.  Yes, you read that right.  Reread it again if you have to.
The plan was to have people gather in a circle by Columbus Circle (so it's totally public and maybe people would join in) and have a jumping jack (off) contest.  Yes, it was named that on purpose.  The jokes from it are unlimited.  So anyway, of course I was in.  I didn't train at all for this, but I did do a seven mile warm up!  (Thank you to the Team in Training ladies who were handing out red blinkers at the 72nd St Transverse to help people be spotted in the dark!)
I couldn't fine Abbe and Baker (the hosts of the race) when I first showed up, so I started to wander back towards park since I figured they'd be there…maybe.  This involved walking through the Christmas shops, which I love…and I quickly spotted iPhone cases, which is something I desperately need!  I spotted this one from Manhattan Studio (I have their pictures on my wall too!) and bought it.  I'm already a winner.
I ran back over towards Columbus Circle and spotted Baker waving from inside the circle.  After waiting for traffic to pass, I ran over and they yelled, "You're the winner!"
Apparently I was the only one crazy enough to show up on a cold, dark November Thursday.  We got some text messages that Elyssa and Bojana would be showing up…so maybe we had a competition on our hands.  They showed up in heels with coffee in hand…guess not.
The plan was to say that the jacking off (uh…) went on for hours and make jokes about our stamina, but the truth is I can't lie, even behind a screen, so…what actually happened is that I did one jumping jack and won.  HOOOOORAY.  My second New York Rogue Runners win!  Evidence: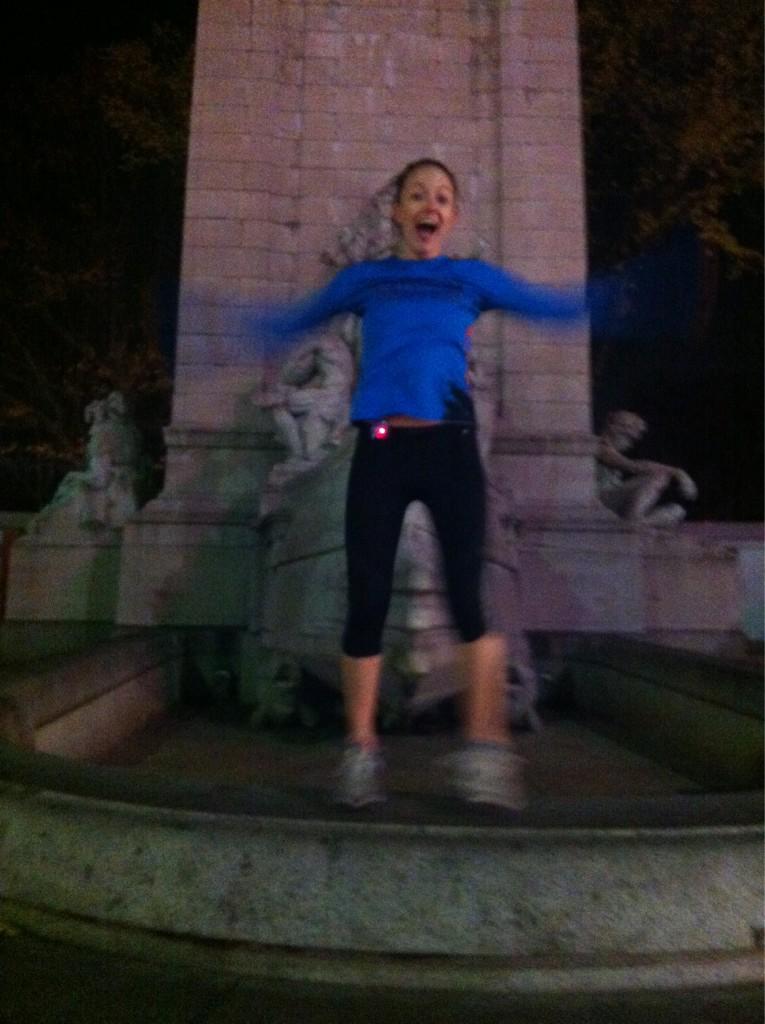 I've never been more attractive in my life.  The face of a winner.
Please note the blinky light on my hip.  Safety first, friends.  Since the jack off (…) was short lived, we headed out for dinner and drinks at PJ Clarke's.  We were eventually joined by Claire and Erica and it was a lovely gathering of friends.  The plan is to redo the jack off when it's a little warmer (or light out…) and I will have to fight to maintain my champion status.  Better start training…and you all better show up!  I'm importing Chris from the west coast for the next addition.
run date with JB
In case you haven't been around here long enough, I work weird nursing hours and therefore have random days off.  For the most part, I hang out with myself (and Gatsby).  It's not so bad.  However, I'm not a morning person and therefore don't want to wake up at 6am on my days off to meet up with people to run.  I squealed with glee when Jocelyn told me that her work hours got changed and she now is free is the mornings.  (Okay, I'm not a squealer, but I did get excited.)  Run date buddy for life.  We made plans to run this morning…at 9am.  I'm in love already.
We met up at the corner of Central Park where I literally ran into her arms.  (It's been too long, friend.)  The chatter started immediately ("Tell me EVERYTHING"  = JB's favorite quote.) and didn't end for the entire five miles we ran together.  And we already have our run talk topics picked out for our next run.  While I love running by myself, the miles can definitely fly by when running with a friend…and fly by they did!
#thisiswhyimsingle
About that picture…I'm pretty sure Jocelyn said, "Don't worry, it won't make it on the blog."  But it will make it on my blog, WIN.  I like to think I'm an excellent running buddy, so let me know if you ever want to run!
Overall, I ran about nine miles today, five-ish with JB.  I'll take it.  Already looking forward to more morning runs!
What's up this weekend?  What are you looking forward to?  Are you coming to the next jumping jack off??