For a break from the running talk, I bring you a Five for Friday…and it's brought to you by my (lovable?  annoying?) quirks.  You're welcome.  Maybe.
no more elephants at the circus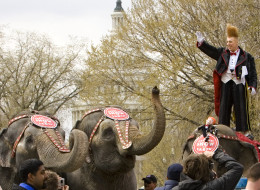 If you know me, you know I love elephants.  Always have, always will.
Ringling Brothers and Barnum & Bailey announced on Thursday that they will be phasing out their elephant acts at the circus.  The main reason for this is both customers shifting their view of treatment of animals and the company facing legislation regarding fair treatment of animals.  While I personally love seeing elephants any chance that I can, I certainly agree that these animals aren't meant for show.  If you've been around for awhile, you might remember when I went to Namibia to work on an elephant conservation project with Elephant Human Relations Aid (EHRA) and saw real elephants in their natural habitats.  Certainly not circus life.
Gatsby might be a bit sad that he won't be able to see his family at the circus, but I suppose we'll have to go back to Africa to see them again sometime sooner rather than later…
david sheldrick wildlife trust – instagram
Because I love touting elephant organizations, I'll talk about another.  The David Sheldrick Wildlife Trust based in Nairobi, Kenya.  Some people look at puppy pictures when they're sad…I look at baby elephant pictures.  I dare you to try and stay away from their Instagram account with pictures like this:
How can you resist elephants in blankets??  I bet you can't.
Goal for March:  Sponsor one of these elephants.  They bring me happiness on a daily basis, I should probably give back!
my favorite part of ice cream
Eric and I opened a new container of ice cream the other day, and he tried to dish it out real quick.  I leaped off the couch to stop him (luckily the kitchen is all of two steps from the couch) and told him that the top part of the ice cream is my favorite part and can I pleeaaaase have it?  I explained that it melts just right when you leave the container open for a minute, and it just seems a little bit creamier to me.  He said of all the quirks I have, this might be the weirdest.  (Or maybe second to the fact that I sometimes microwave the ice cream container – sometimes I don't want to wait five minutes for it to soften up!  Please note I learned this trick from my mom.)
The part around the edges is my FAVORITE.  Don't take this from me.
so many alarms
At least they're all set for AM and not PM…
I'm pretty sure Eric hates my alarms in the morning, although I'm convinced he doesn't actually hear most of them.  On days that I work, I set three alarms – 5:55am and 6:05am on my phone and then 6:11am (don't ask me why) on the real alarm clock that I have to get out of bed to turn off.  When I worked night shift, the real alarm clock was for those lucky days when I managed to sleep so long that I needed to get up or be late for work – that rarely ever happened.  I usually didn't even make it to the alarm set on my phone.  My goodness, I don't miss those days.  But that doesn't mean Eric appreciates three alarms in the morning…
You don't probably don't care about that either.  Unless you're my neighbor, in which case this just got super creepy.
the glory days of bozo buckets
My cousin's wife posted this on Facebook yesterday…and it brought me back.  Waaaaay back.
I know I used to watch Bozo the Clown, although I honestly don't remember any of it.  However, I do remember setting up Bozo Buckets in our basements and practicing for hours – if I ever got the chance, I wanted to get to that CRISP ONE HUNDRED DOLLAR BILL.  But alas, my Bozo Buckets playing never extended past backyard birthday parties.  For shame.  On the bright side, I contribute any success I have at beer pong to my young, young years spent throwing ping pong balls into empty coffee cans.
That is all!  Share your quirks!  Did you play Bozo Buckets?  Did you want to?  Do you have no idea who Bozo is?  Or, just talk about how cute elephants are.  Or not, that's fine too – I'll see it on the 'gram.
Running talk will resume again shortly, thank you for humoring me.
And if none of this entertained you, head on over to Dietitian on the Run – Heather is getting married tomorrow, so be wowed by California trail races and send her your best wishes!